Adverse weather conditions such as heavy downpours, hail, and thunderstorms can affect your roof. These weather conditions damage the exterior of a building and cause severe problems to the interior, such as electrical wiring and, even worse, water seeping through ceilings and walls, which eventually damages hardwood floors or carpeting.
This blog post will discuss the major effects of bad weather on the roof and what homeowners can do to prevent any serious damage.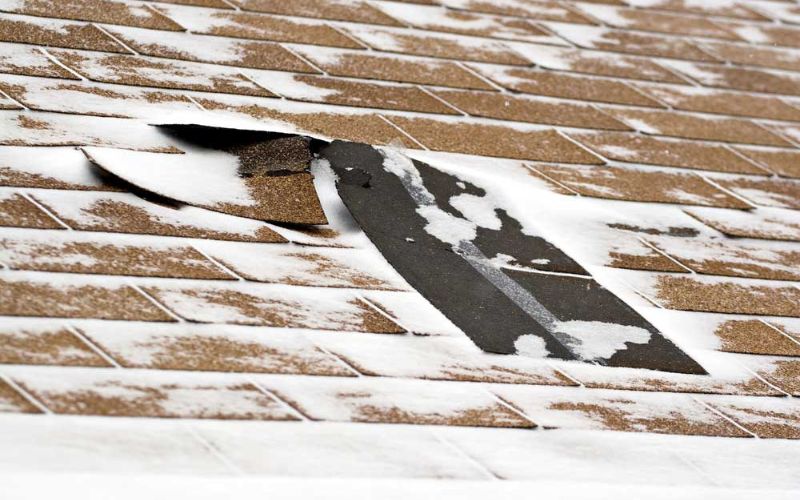 ---
Ripped off shingles and tiles
High winds can easily rip off shingles and tiles if your roof is not properly installed or maintained. This leaves your home vulnerable to water damage and other problems. To prevent this from happening, make sure that you have a qualified contractor inspect your roof regularly and fix any potential issues.
Icy rain and snow buildup
One of the most common causes of roof damage during bad weather is ice dams. Icy rain and snow can accumulate on the roof's edge and cause water seepage inside the house. To prevent this, install proper ventilation along the eaves of your roof and keep gutters clear of debris so that melting snow can run off efficiently.
Leaking roofs
Even if your roof seems sturdy, it might not be enough to withstand bad weather. If you notice that your roof is leaking, it's time to call a professional contractor and fix the problem as soon as possible. The effects of bad weather may vary depending on where you live, but some common problems are associated with roofs during harsh conditions, such as heavy rain or snowfall.
Damaged gutters and downspouts
Heavy rain can also cause worn-out gutters and downspouts to break, resulting in water damage inside the house. To prevent this from happening, make sure that your gutters are cleaned regularly so that they can divert excess water away from the roofing material.
Ice dams
Ice dams are one of the most common problems homeowners face during the winter months. This happens when snow and ice accumulate on your roof, which then melts due to heat from within the home and refreezes into a blockage at the edge or eaves of your roof.
In addition to these common problems caused by adverse weather conditions, there may be other things you need to take care of. This may include securing loose items on a porch or covering windows with plastic sheeting if hail is expected during a storm.
---
How to protect your roofing from adverse weather\
Now that you know the effects of bad weather on your roofing. Let's take a look at some ways to protect it.
Ventilation along the eaves and troughs
Proper ventilation along eaves will help melt snow, while proper drainage around the home prevents water seepage inside by keeping gutters clear and directing rainwater runoff away from the foundation. In addition, it is important to keep debris such as leaves and branches off of the roof and install heating cables along the eaves if you live in a cold climate to prevent ice dams from forming.
Install gutter guards
Gutter guards can help prevent clogging of gutters with leaves and other debris, thus allowing water to flow freely and preventing ice dams from forming. If you don't have the time or energy to clean your gutters yourself, hire a professional gutter cleaner to do the job for you. This will help ensure that your gutters are clear and functioning properly so that they can divert water away from your roofing material.
Insulate your roof
If you live in a climate where the temperature stays below freezing for long periods, then it is advisable to install insulation on your roof. This helps prevent heat from escaping from inside the home and serves as an additional layer of protection against ice dams during winter months when snowfall is likely.
Call for a professional roof inspection
The first thing you need to do is have a qualified contractor inspect your roof regularly for any problems to advise homeowners about how best to prevent damage during stormy conditions.
Teamwork Exteriors has enough experience in dealing with all kinds of building systems, including roofs, and understands the special needs of certain types of buildings such as commercial or industrial homes, which are especially vulnerable due to constant exposure from high winds, hail, and heavy rains.
---
A professional roofer in Rapid City, SD
There are many things to consider when it comes to protecting your roof from bad weather. By following the tips above, you can help ensure that your roof stays in good condition no matter the conditions.
If you need a reliable roofing company in Rapid City, SD, that has the skills and knowledge to help prevent damage from bad weather, then contact Teamwork Exteriors. We have been providing exceptional services for years now and will be happy to offer advice on how best to protect your home during harsh conditions.
---
LET'S WORK TOGETHER
A Premier Roofing Contractor
In Rapid City, SD
Roofing Contractors in Rapid City, SD & Scottsbluff, NE