When you notice any of the following signs, it's a good idea to get your roof inspected by a professional. Some of the signs that indicate you need to replace your roof are:
The shingles are curling, buckling, or missing

The flashing is rusting

There's been a leak in the past year

You've had a storm or high winds

You have water stains on your ceiling

You have noticed an increase in insects - Your attic smells musty

There has been a decrease in the temperature of your attic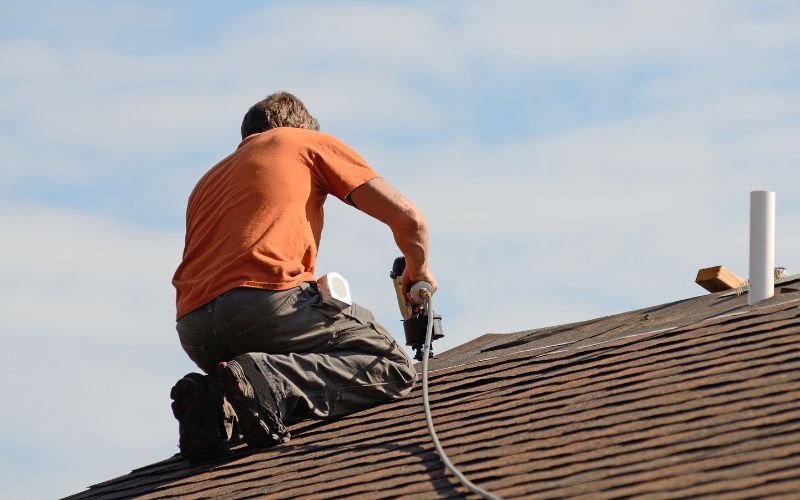 ---
Getting the Most From a Roof Replacement
Roof replacement is a passive investment where you want to ensure you get the best deal. There are many factors to consider when choosing a roofing material, including cost, durability, and maintenance. It can be hard to compare these factors across different materials, but this article will help break it down for you. Roof prices vary based on materials and location. For example, copper roofs are more expensive than many other types of roofing because copper is rare and more expensive to produce. The cost for a new roof installation depends on how much material you require, how long the construction will take, and where you live.
Average Price of New Roof and Roof Repair Cost
The cost of replacing a roof is not the same for everyone. The price of your roof depends on several factors, including the size of your roof, the type of roof, and the materials you choose. The average cost of a new roof ranges from $5,000 to $8,000 for most homeowners. This price can vary depending on the size and materials you choose.
Benefits of replacing your roof:
Energy efficiency will be better with the new roof.

You will be able to increase the value of your home by adding it.

It can reduce your energy costs over time.
The Costs Associated with a New Roof
Choosing the best roofing material is a big decision. You want to check that you are getting the best value for your money and choosing something that will last. The cost of a new roof varies depending on the materials used and other factors, but it can be anywhere from $3,000 to $30,000. There are many things to consider when estimating the cost of a new roof and what it entails.
Roofing material: The material used for your roof will impact its cost. A metal roof may be less expensive than asphalt shingles, but metal roofs need more maintenance over time.

Roof size: The size of your roof can also impact cost because it affects how much material has to use.

Installation: A roof's cost will be affected by its installation. Sometimes, installing roofs requires a professional. In some cases, homeowners can manage them.

Style: The style of your roof can also affect its cost. You should also consider the installation cost if you want it pitched.

Location: The cost of a new roof will vary depending on where you live. In cities, these are more expensive to install because there is less space available for installation.

Maintenance: The cost of a new roof will also vary depending on how much maintenance it needs over the years. A metal roof may require less maintenance than asphalt ones, but the cost of a metal roof may be higher than asphalt.

Materials: Roofing materials such as PVC and steel can also affect the price, while slate and concrete are more affordable.
Conclusion: The Advantages Of Getting A New Roof For Your Home
The roof of a house is a crucial part of the house. It protects it from rain, snow, and wind. In addition, it prevents water damage to walls and floors.
The following are some of the advantages of getting a new roof for your home:
New roof is more energy efficient than old roofs

New roofs are made with materials that are more durable than old roofs

Roofs provide better insulation than walls

Roofs will help reduce your heating and cooling bills
A new roof can make your home look beautiful and modern. Additionally, it increases the value of the property you own. A new roof will also protect your home from damage caused by the weather. If you want to invest in your property, a new roof is the best option.
---
Call a professional roofing contractor in Rapid City, SD
Hiring a roofing contractor should be a well-thought process to ensure smooth installation or repair. At Teamwork Exteriors, we pride ourselves on providing the highest standard of roofing services. Our team of roofing professionals is always ready to answer the most frequently asked questions about your roof. At Teamwork Exteriors, we work hard to bring you the best results for the lowest prices. If you're looking for a reputable, likable, and qualified contractor, contact us today.
---
LET'S WORK TOGETHER
A Premier Roofing Contractor
In Rapid City, SD
Roofing Contractors in Rapid City, SD & Scottsbluff, NE